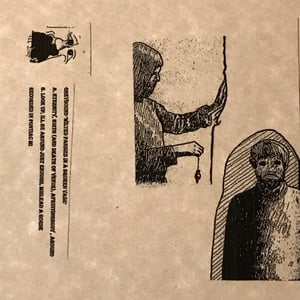 $

7.00
Greyhound is a solo recording project based out of one of Metro Detroit's most damaged zones Pontiac MI . On this recording he utilizes a wide range of influences to create earthy sound collage spoken word bits that Transend time & space, tracks as short as your favorite GBV jam yet somehow creating the illusion of Length you'd find on a Popul Vuh peace. The vibe varies but is always held together by the spoken word concepts & the overall syrupy fidelity , this tape sounds like you found it at the bottom of a melted down mountain dew Slurpee in a Pontiac 7-Eleven parking lot someone left after buying a bag of Xanax off a dude in a busted Yukon. At times samples seem to have the groove of your parents dusty partied on record collection at other times coming off world like & then quickly jarring your brain with some country like twang all done with existential word play that's emotion is so raw it mutates existential into introspective. For fans of Shadow Ring Robert Ashley, Mike, Lee Hazelwood, Grippers-At Slime Beach & sublime Frequencies.
ALL GONE APPROVED 2021
Cassette burner D.I.Y all the way
you know how we bum.
https://allgonelabel.bandcamp.com/album/wilted-pansies-in-a-broken-vase